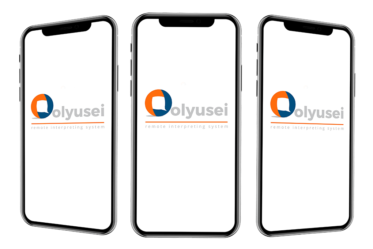 Unlike conventional systems, the Olyusei App makes it possible to listen to the simultaneous interpreting of an event without actually having to be physically present. It is perfect for in-person or hybrid events, or those with different rooms or stages.
With the Olyusei simultaneous interpreting app, you won't have to worry about sending and receiving signals with traditional interpreting receivers or about dedicating staff and spaces to the service. However, if you wish, you can combine both tools and let attendees choose which they prefer to use.
The Olyusei app is available in the main app stores. It is free to download and anyone can use it due to its simplicity and intuitiveness.
We create a section for your event on the
Olyusei simultaneous interpreting app
 using a private PIN code, which guarantees that only guests or attendees can listen to the interpreting service.
The Olyusei App can be adapted to the corporate image of your event and it can include as many languages as necessary.
Despite the attendees receiving the interpreting audio on their own device, they can continue to use it as normal (browsing, calling, using other apps, etc.).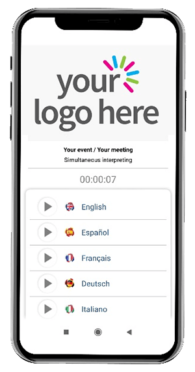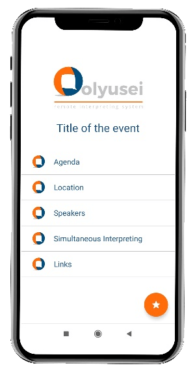 Besides simultaneous interpreting, the Olyusei app allows you to personalise and add other features:
◉ Event schedule
◉ Related documentation: bios, abstracts
◉ Speaker profiles
◉ Location of the event, hotels, restaurants or other venues
◉ Links to event and registration pages and to any other website related to it
◉ Videos via a link
◉ Additional rooms or breakout rooms with simultaneous interpreting